HILT // BLADE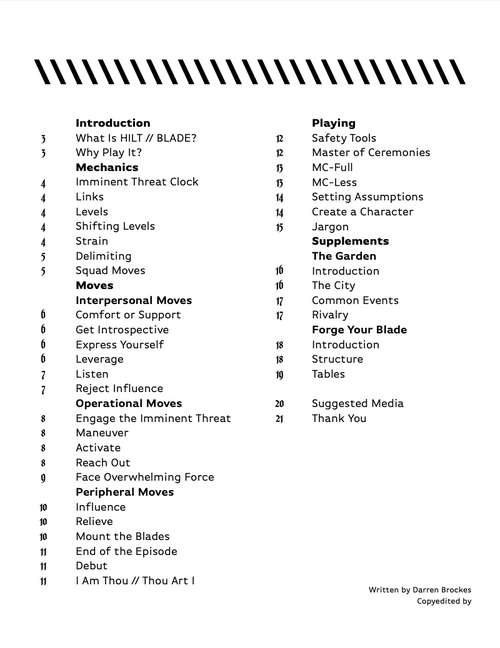 Just popping in to say that things are progressing! The screenshot attached is for the TOC from the single-page, web version/PDF: I reformatted it so that it is more practical and stands out more from the zine version...which includes expanded content. I'm writing the introduction, MC sections and the supplements right now and then the game will be done!
Some plans for what I'm doing with this thing after I finish this up: the PIY zine version will become free and the PDF/screen version (along with epub/mobi versions, I hope) will cost $10. That being said, if you have already purchased the game, you will, of course, get all updates (as originally promised).
In addition, I'm going to commission a new cover and work with a risograph printer to print a limited collection of unique editions! These will be 5x8-ish and will cost $20, given the art and unique risograph print process. If you purchase that, you'll, of course, get access to the PDF version as well and I think I'll do a discount for everyone who purchased the game originally at $20.
(I'm also looking at a print-on-demand option through drivethru, but those, of course, will not use the custom art for the riso print run.)